Daniel William Wood Jr. nació el 14 de mayo de 1969 en Boston, Massachusetts. Sus padres son Daniel Joseph Wood y Elizabeth siendo el 4º de 5 hermanos.
Luego de que los New Kids on the Block se separaran in 1994, Danny decidió incursionar en una carrera como solista. El Fundo en 1997 su propia casa disquera llamada Damage Records, donde produjo bandas como Mr. Marvelous y LFO (Lyte Funkie Ones). A su vez sacó su primer álbum el 22 de Julio del 2003, llamándolo "Second Face", Todas las canciones fueron producidas por Danny y su amigo Pete Masitti. En 1999 el sacó el álbum "Room Full Of Smoke" como D-Fuse, y en el 2008 a realizado el álbum llamado Coming Home.
Danny también comenzó a actuar, siendo su primera película "Thank You, Good Night", una historia sobre cuatro músicos luchando por el éxito personal y profesional. También trabajó en Deveria y en I-15. Igualmente hace una aparición en Tequila Express.
Danny también apareció en un programa de MTV's llamada "Totally Boyband" donde se presentaba como parte de un proyecto donde reclutaban ex participantes de otros grupos musicales para formar una nueva banda. El nombre de la banda era "Upper Street" la que tuvo un single en el puesto #35, en los charts, lamentablemente el grupo no cuajo y se disolvió a los meses.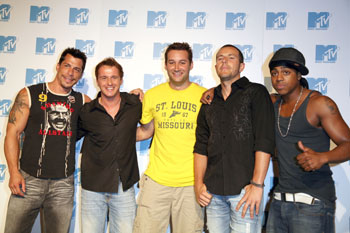 Albums
D-Fuse : Room Full Of Smoke (1999)
D-Wood : Room Full Of Smoke Vol. 2 (2003)
Second Face (2003)
O.F.D : Of Dorchester (Acoustic Tour Exclusive) (2003)
Coming Home (2008)
Stronger: Remember Betty (2009)
Look at Me (2016)
Sencillos
"What If" (2003)
"When The Lights Go Out" (2003)
"Different Worlds" (2003)
"Look at Me" (2015)
"Endlessly (Betty's Wish)" (2015)
Danny actualmente tiene 4 hijos Daniel Jr, hijo de su primera relación, Anthony, Chance y Vega, frutos de su relación con su ex-esposa Patricia Alfaro. También ya tiene una nieta (hija de su hijo Daniel Jr.) Rose Elizabeth Wood.
Además de manejar la fundación The Betty Wood Breast Cancer Foundation creada en honor a su madre Betty Wood quien falleció de Cáncer.